Originally Published in Issue 35 of 4Low Magazine
Make sure to subscribe to get the newest issues of 4Low Magazine right to your mailbox. CLICK HERE
Story and Photos by Melissa Fischer
Rear Steer is not your average Moab area Jeep trail. This trail is not listed as an Easter Jeep Safari trail for good reason. It requires well set up equipment, great driving, and a good sense of belly height and tire placement. When I've driven this trail, I've been in a rig with one-tons, an Atlas, and 40-42" tires, and I've still had to winch in at least one spot.
This trail has been around for several years but has not always been legal. As I never ran it before its re-release as Rear Steer, I can't comment on the history, but the Bureau of Land Management did allow it to be official as of September 23rd, 2017. Along with other members of the Moab Friends for Wheelin' club, I worked with land management to put together the signage and kiosk required by the BLM. The official name, according to the BLM, is Black Ridge Rockcrawling Trail.
Some of the work that went into opening the trail included sign placement, some fencing to protect a cottonwood tree, and installing a kiosk with trail information.
Rear Steer is less than one mile long and is a one-way trail. No permit is required, like is at Coyote Canyon, and the entrance and exit are marked with signage. The location of Rear Steer is 12 miles south of Moab, along Black Ridge Road. To get there, make the first left after climbing the long hill on 191. Follow the maintained dirt/gravel road for several miles, past Area BFE, and climb up the switchbacks to the top of Black Ridge. There, you will see a sign that will direct you left onto a lesser road down past the exit. This is a good spot to le
ave your trailer if you've towed your rig. Continue down to the Rear Steer exit.
Check out the exit as this last boulder climb is the most difficult part of the trail. This is also a great place for anyone who may want to watch the action to park their vehicle and hike down. You'll find a faint road to the
right if you continue past the exit, about 1.2 miles away. Watch for the sign. After passing through a gate (please leave it as you found it), you'll want to shift into 4WD for the road down to the trailhead, which is almost another mile. If you find this part challenging, then Rear Steer is not for you. Shortly after passing the kiosk on the left, you'll see the start of the trail as a very sharp right out of the wash. Now let the carnage begin.
There are a few "instructional" signs along the route. Most of the obstacles are large boulder fields that require careful tire placement, although there are a couple of steep ledges and shelf sections. The trail is pretty straightforward up the wash, although it does come out and drop back in on a couple of sections due to extreme brush and downed trees.
There's never really an easy part of the trail, and there are no winch anchors except at the exit so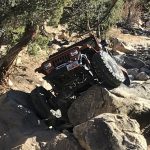 traveling in a group is a good idea. As you get near the trail exit, you'll come to an optional obstacle that I've heard called Snaggle Tooth. There is an easier route to the right, but this main obstacle will test your rig's off-camberness and, to me, is the highlight of the trail.
Finally, you will see the exit ahead. This part of the trail is really tough and getting out can take a while. Wheelbase and belly height help tremendously on this last portion, as do sticky tires and the ability to do digs.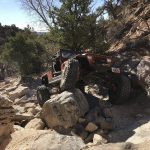 Next time you find yourself in Moab and are feeling a little "froggy", check out Rear Steer. Be sure and let someone know (like Rory Irish at Moab Motorsports) that you're going, just in case you need some off-road recovery. Have a great trip, stay the trail, and leave the area cleaner than you found it.