Story by "Big" Rich Klein
Photos by Sean Hansell (including cover) and Rich Klein
Originally Published in Issue 25 of 4Low Magazine
Make sure to subscribe to get the newest issues of 4Low Magazine right to your mail box. CLICK HERE
When we travel anywhere, we try and tie in our passion for off roading. Our plan for this winter's relaxation/relocation visit, was Hawaii (the Big Island) with our friends Rick and Bebe.
Bebe found a house for us to share, we all made our travel arrangements and then we just had to wait until the magic day that we would fly to paradise.  Well, it was not that simple, which can be a common theme when traveling like we do.  You see rental vehicles have never been an issue any place we've gone in the past, not Japan, Costa Rica, Australia, Canada, Alaska or the many places here in the lower 48.  Our rental car adventure in Hawaii was a first, I guess that's what happens on an island.
We like to explore anywhere we travel, get to know the culture and the people, mix with the natives so to speak.  So we try and rent Jeeps or 4 Wheel Drive vehicles when we travel. The week of our departure from the mainland to Hawaii, I start looking for a rental Jeep.  Here is a word to the wise, when traveling to Hawaii, first check availability of a rental vehicle before arranging anything else. Seriously, all vehicles were taken, not just the Jeeps.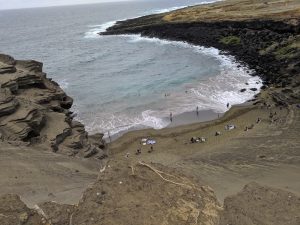 I first called every normal rental car agency looking for a Jeep, no luck on a Jeep or for that matter on anything, even the smallest of vehicles in the economy class to the biggest 12 passenger van. No worries, I'll just call a Jeep rental/tour company and rent a more capable vehicle at a higher price. Nope, nothing available, not even the owner's vehicle was available.
No worries, back to computer and I start changing the dates and the pick-up/drop-off locations knowing that I should be able to find something. Great idea, but again I hit a brick wall. I start looking for local at rental agencies, BINGO.  Local agency comes through with a little economy car, with pick up and drop off at the different airports on the big island, which will add a couple of large cab fares and more adventure.  Luckily, once we arrived that the rental car place, the lady helping us showed some pity on us and gave us a free upgrade into an SUV, yay for us.
While the owner of the Big Island Jeep Rental couldn't help us with a Jeep, he did connect us with the president of the local 4×4 club, "Big Island Jeep Club", none other than island transferee, Sean Harwood, owner of Big Island Off Road.  Sean was able to arrange for a couple of day trips with the club to parts of the island we would not be able to visit otherwise.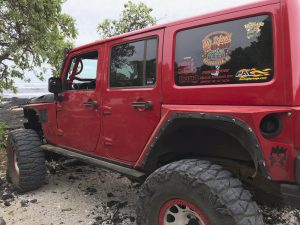 Trip one, the day after Christmas, saw the four of us on our way to Kona to wheel with three club members and adventure to many of the beach locations they enjoy wheeling to on the leeward side. All these locations are on the west coast side of the island. The east side of the island is more remote and mostly cliffs with goat trails to the rocky shores below.  Our drivers and new friends were Sean Harwood in the red JK, Brandon Parsons in the black JK and Bala Clark in the beige TJ.  All three vehicles were well set-up with long arms and shock packages.  We met for a quick bite of breakfast, introductions and arranging our gear into the 3 rigs. Our goal for the day was to see the trails that lead to the beaches and shoreline from Kona to the north.  First trail we did was like we would the rest of the day, rutted, lava rock ledges and rocky shorelines with just enough sand to remind us we were truly in Hawaii.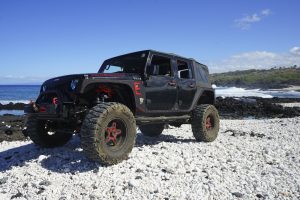 On the first trail, we came across a stock Grand Cherokee with a driver's front tire sliced open by the lava rock. We would have just squeezed past it, but there was a full size pickup on the other side trying to figure out how to get around the Grand without sliding into it. Just the kind of project we needed to start having some fun. Our first job was to get into the vehicle to drop the transfer case in neutral, climbing under it and forcing into neutral seemed unsafe, so after using a secret trick we opened the back driver's side window then door, allowing us access to the transfer case shifter.  With the Grand in Neutral, we winched it back about 15' to make room for the full-size.  Later in the day as we were all enjoying another beach and the view, we laughed pretty hard when we realized after we secured the Grand back up, we had left the transfer case in neutral. Imagine the owner's surprise when he changed the tire and tried to drive away without knowing it was out of gear.
Trip 2, was set for Sunday, to allow more of the local club to participate.  We were not disappointed, a total of nine rigs made it.  This trip had us doing trails to two beaches and a point. We started at Southpoint, the most southern point of any of the United States (cover photo was taken at South Point), it sits further south than any of the Keys.  The first beach, was the green sand beach. Green sand is very rare, making this beach one of very few places on earth that it appears.
While the terrain can be negotiated by stock jeeps or pickups, there are some short steep optional hill climbs and drops, some criss-crossing of the main trails allows for flexing it out and some of the coolest scenery ever.  I have to hand it to the many tourist that left their rental cars back at the point and walked in just to get to green sand beach.  It's got to be a 4-6 mile hike one way to get to there. About 100 people were enjoying the day, either already at the beach or on their way, we passed them hiking and were thankful to be in Jeeps.
The second beach was another 10 miles or so, and again with great views of the Pacific Ocean, waves crashing on the rocks, sandy beaches and very few people, well except for people camping and fishing.  We stopped at a small cove for another group shot and to let everyone stretch their legs, the cove is a perfect camping spot that even has a rope swing.  After a short break we were off again to find trash beach, we were told that lots of trash from the abandon city in Japan (Fukushima), where the 2011 nuclear power plant accident occurred, washes ashore on this beach. Fishing nets, household items, bottles, buoys and just about anything that floats could be found along this quarter mile stretch of shoreline.  The locals try to keep the area picked up, but each high tide brings more items ashore.  After more pictures and conversation. We loaded up and headed out, stopping at a fresh water pond just a little ways inland from the beach. Cool clear water get trapped in the lava rock depression, a bit chilly to take a swim but a great place to rinse off the sand.  The rest of the trip out was done on an inland trail that ran across the edges of lava fields and through groves of what I would call Mesquite, the locals have a different name, but they say the trees were planted by missionaries to encourage the native Hawaiians to wear shoes.  Dang, if we can't just leave well enough alone.
We all made our way back to South Point, so we could retrieve our rental. Then proceeded north to Captain Cook for dinner and a great Kona Coast sunset