Originally Published in Issue 36 of 4Low Magazine
Make sure to subscribe to get the newest issues of 4Low Magazine right to your mailbox. CLICK HERE
Peace Out on the Arizona Peace Trail.
We have wanted to get out on the AZPT for some time now. With show season canceled – no SEMA, no Off-Road Expo, we finally found some time.
We chose to run the trail from Salome to Yuma, about 160 miles worth. The entire AZPT is somewhere between 675 and 780 miles, depending on which spurs you add. From what we can tell, the AZPT is more of an Overlanding-type scenic trail. We drove our 2012 Ford Raptor and towed our RTT equipped adventure trailer for the comforts of home that it affords us.
The first section of the trail (Salome to I-10) consists of graded dirt roads with some washes (wide, cross-grain) to cross. The scenery is beautiful, and there are some offshoot routes that you can take if you have the time to explore. The side route to Harquahala Mountain is a fine example, and you'll get to see views from the tallest mountain in southwest AZ. Plan an additional 4-5 hours for the side trip up the mountain and back down again.
From I-10 to the Arches side route is about 15 miles of graded road, some softer sand wash sections, and a few rougher, rocky road sections, but overall an easy route.
If you want to see the arches, a word to the wise, expect pinstriping, it's a narrow trail that will require 4wheel drive or at least high clearance and great driving skill. Very soft sand wash sections, steep climbs, steep drop-offs, lots of overgrown Mesquite, and various AZ sticky bushes (cactus) abound.
This side route is only about 8 miles in length, but with all the cross-grain washes and hill climbs, it is slow going (Carry a tire plug kit and onboard air with you, don't go this side route without them – ask us how we know). Expect to spend at least an hour on these 8 miles. Staying on the main trail is about 6 miles to the arches exit, but it's all reasonably high speed graded dirt road; there are some places to check up your speed, like 2 or 3 washes that can be rough. There is also a cattle guard and a fence to open and then close.
Shortly after the arches exit road (2.3 miles), the main road gets tougher as you cross and drive down washes for the next 15miles. There is a cool short side trip (1/2 mile) to the Aztec Rocks WW2 marker. The marker consists of rocks laid out to mark North (an arrow and "N") for airplanes training during WW2, it also spells out AZTEC 41.  Difficult to see as you are standing next to them. What is most noticeable is that the rocks have been placed, as with most man-made objects, the edges tell the story.
Once you're out of the long wash section of the trail, it again becomes more of a graded road heading east to west (about 7 miles). From Salome, the route is generally north to south. There are many great areas to camp along this section, being mostly flat. I would recommend camping a
bove the washes (think flash flooding from possible rains miles away).
The next section is about 20 miles in length and combines high speed graded dirt roads with slower dirt roads with some washes to cross.
You'll now jump onto a paved road for about 4 miles; you can turn left and visit Dateland. There you can get fuel at the Chevron station and a Date Shake (great-tasting). Dateland is about 9 miles down the paved road to I-8; beware, there is a highway patrol office near the interstate.
Nine miles back to the main trail and take a left onto the dir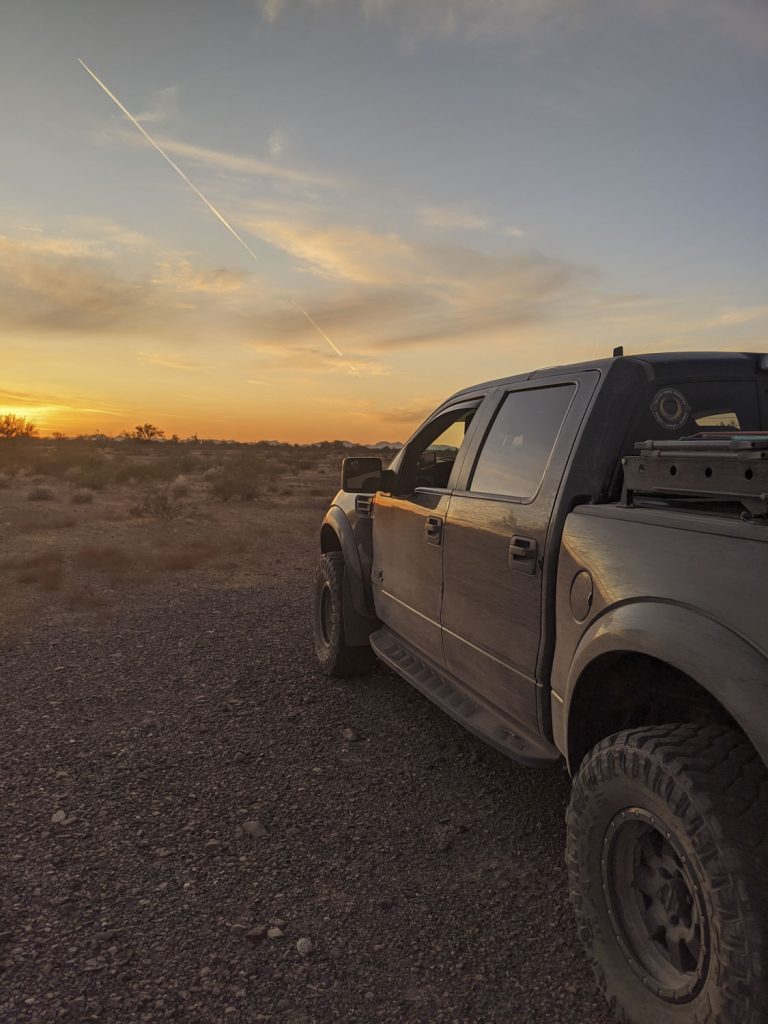 t road; this next section is very high speed and travels along the old unused railroad tracks for about 20miles.
At this point, stay to the right and cross over the dike and railroad tracks to follow the main trail. You'll go about a mile, then turn left and basically follow the power lines for about 10 miles. If you hate cross-grain washes, you'll absolutely hate this section. There is another small jog right, then left around a substation; the trail can be hard to see here, but it jogs around a washout, and the trail is basically 100yds dead ahead.
The foothills are next; they are dry, dusty and rough for about 20 miles. Lots of cross-grain washes, steep hills up and down ridges, some blind drop offs down into washes, and all sorts of slow going. This is truly the slowest portion of the entire 160 miles that we did in the two days.
When you exit the foothills, you'll jump onto a graded dirt road for less than 2 miles, then turn right onto another section of high-speed dirt road for almost 5 miles.
Following the farming roads and canal, you'll next cross highway 95 in about 15miles. The next 15 miles is the last of the trail we completed. It ended for us at Mittry Lake. There is a nice, gravel camp area across the road from the lake, mosquitos are thick at dusk. The lake offers fishing, duck hunting in season, boating, and paddle boards are also welcome.
And so ended our first experience on the AZPT. We stayed on the main trail as described, only venturing off in 2 areas.
The AZPT affords the opportunity for more side trails, but beware, some of the side trails may be more suited to UTV's, ATV's or smaller jeep type vehicles. Our Raptor is a wide girl, and then with the adventure trailer added, it made for some exciting driving on the side routes.