Basic Info
Owner Name: Shain Chapman
Location: co-owner Katemcy Rocks Offroad Park, Mason, TX
Vehicle Make & Model: 1984 Jeep Grand Wagoneer Builder: Robbie Kelly envisioned; Sudden Performance did the engine build, drivetrain mounting and wiring.
Years in sport: 25 years
Drivetrain
Wheels Brand & Size: Raceline Avenger 929M
Tires Brand & Size: Cooper Tire SST Pros, 37 x 12.50 x 17
Suspension
Front Type: re-arched 2" Rancho leaf springs, SOA
Engine: Twin turbo 6.2 liter LS3 (2009 Escalade) w/ cam
Engine Modifications: twin 62 mm turbos. 450 HP/ 420 torque at 7 lbs boost.
Spintech exhaust with electric cutouts
Rear Type: Rancho leaf, SOA
Transmission: 6l80e (2009 Escalade) stock with stall convertor and big cooler.
Front axle: Rebuilt 1980s GM Dana 44
Gear Ratio:           4:10                 Locker: Open
Modifications: high steer by Titan Machine in Temple, Texas.
Rear axle: AAM 10.5"/14 bolt with factory disc brakes Gear Ratio:  4:10            Locker: Gov-loc Modifications: Hydroboost on 4 wheel disc brakes
Transfer case: rebuilt NP 205 with JB Fab twin sticks with custom made knobs by Robbie Kelley Black Label Studios TX
Drive Shafts: Tom Woods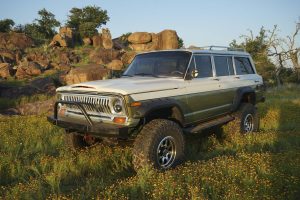 Exterior
Front Bumper: Custom built by Off-Duty Powder Works, Weatherford, TX
Rear Bumper: Custom built by Off Duty Powder Works
Colors are 1970's AMC colors: Champagne white and Metallic Avocado Mist Green
Please include any additional information on back:
Autometer custom shop gauges
Derale tranny and power steering coolers and dual radiator fan set up.
The build was the vision of Robbie Kelly, the original owner. The engine build, install, and performance was done by Sudden Performance in Aledo, Texas.
It is not the crawler my TJ is, but I will say it moves pretty damn fast for a big girl.