By Christian Sturtz, azfreedom4x4@gmail.com
Photos by Christian Sturtz
Two key components that take a beating on an off-road vehicle are the front and rear driveshafts. Many factory driveshafts are constructed out of thin gauge material and don't have a design conducive to vehicle modifications. Ten Factory, a division of Motive Gear, may have a solution for you. Ten Factory is known for constructing top quality axle shafts, but they also make differential components, slip yoke eliminators, and even driveshafts for several Jeep applications.
Ten Factory drive shafts are constructed from 4130 Chromoly tubes and come with widely available 1310 or 1350 u-joints, depending on application. Ten Factory has the highest tolerances on their shafts, and every shaft is electronically balanced. All their shafts have a ten-year warranty for peace of mind. JK shafts come with yokes for both the transfer case and differential side. TJ/LJ front shafts are bolt-on and require no modification. The rear TJ/LJ shafts need a slip yoke eliminator, and Ten Factory makes slip yoke eliminators that work perfectly with these, part # TFR231-SYE.
Back in Issue 31, we did an in-depth install article on a Ten Factory slip yoke eliminator as well as a complete rebuild on a 231.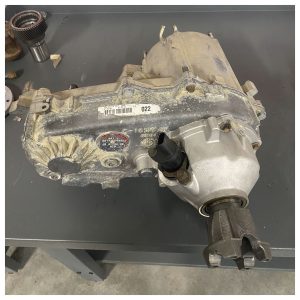 Since then, we were able to get the rebuilt 231 installed.
The front shaft in the TJ was original, the slip was getting sloppy, and the u-joints, as well as the constant velocity joint, needed replaced. So, we thought it would be a great time to replace both shafts.
As you can see, the shafts not only are constructed of top-quality parts and materials; they have a great fit and finish. Check and see if they have a shaft that will fit your project.
Parts Used:
Factory Ten/Motive:
Front Shaft (TFF1310-2148)
Rear Shaft (TFR1310-2135)
Sources: 
Ten Factory/Motive
1001 W. Exchange Ave.
Chicago, IL 60609
800-934-2727