Rock Crawling Lives in the North East.
Story by Ron Lind
Photos by Daniel Maffett
Originally published in Issue 24 of 4Low Magazine
Make sure to subscribe to get the newest issues of 4Low Magazine right to your mail box. CLICK HERE
It was a good day for the first day of fall, with temps in the 60's, overcast skies and as anyone on the East coast will appreciate, no rain. Rausch Creek Off-Road Park hosted the annual RCRocks Club Comp Individual event. RCRocks started at Rausch Creek ten years ago as a feeder series for the national events. It started as an amateur only series. Anyone who had competed within two years of its beginnings couldn't compete in the same manner as they had as a pro.

Here we are ten years later and the series is still going. Things are definitely not the same as they were in the beginning. We no longer have vendors setting up huge displays and don't draw the spectators that we use to. But for those that love to get out and compete things are still going strong. We run the RCRocks club comp series twice a year. In the spring the event is run as a team building event. Clubs sign up with teams of four that compete together and average their scores. In the fall the event is run as an individual event
with competitors competing against each other.
There were ten competitors for the event with a variety of vehicles from a stock CJ on 33" tires to several pro mod and unlimited rigs. The way we run the event is a little different from other local events. Vehicles are still placed in different classes based on tire sizes and chassis and suspension design. The difference is that all classes run the same courses with bonus lines for different classes. Class one and two have the option of running the class three and four lines for bonus points. By adding extra bonuses for the lower classes helps to keep scores on an even playing field.
We had competitors from Virginia, Maryland, Delaware, New Jersey and Pennsylvania representing at least five of our local clubs. We divided in to two groups of five competitors per group. We decided to run two courses in the morning then break for lunch as a group with BMJA doing the cooking. The morning session went well with no major mechanical problems. The class ½ rigs were going after a win, attempting as many of the bonus gates as they could. Dan Eicher jumped to an early lead with his daily driven YJ, right behind him was Steve Malchodi in second and Lorri Lind in third.
Going into the afternoon session, Scott Trimarco broke a birfield joint in his Toyota based four wheel steer buggy. Unfortunately, when the birfield went it pushed the ball joint out of its socket taking him out of competition. Still continuing as they did in the morning, Steve took over first with Dan a close second. Todd Hoffman moved up into third in his class 3/4 built Jeep YJ taking all of the bonus lines that were available. Andy Sheppard made some major improvements in the afternoon with his Jeep CJ7 being the youngest competitor with the least experience.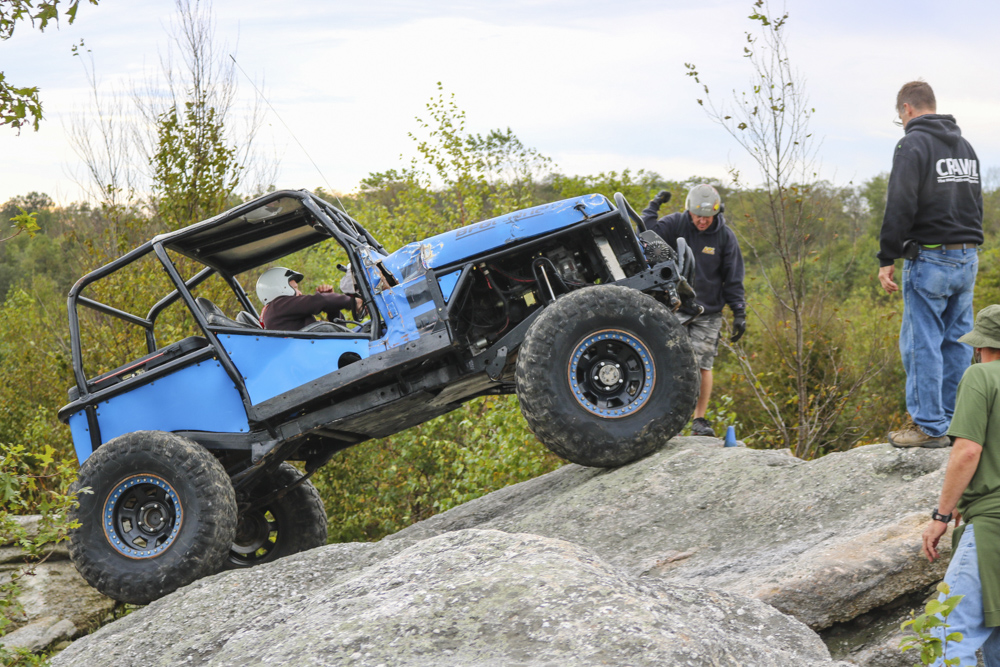 Next up was the shoot out. We decided to do a kill the cone course. The first three gates were run as all other courses with backup points and cones being live. After that it's game on. All cones past the third gate are fair game. The object is to hit as many cones as you can within the ten minute time frame. Cones have different point values based on their colors. This kind of course can be fast as well as intimidating for some competitors. With over three hundred points available it can really shake up the final scores. After the shoot out Ron Lind moved from sixth to first place with Steve dropping to second by only eleven points.

Our final placement was
Ron Lind -329
Steve Malchodi -318
Todd Hoffman -308
Ron Lobb -306
Dan Eicher -258
Aaron Stapin -250
Lorri Lind -208
Andy Shepard -2
Scott Trimarco 79