Originally Published in Issue 36 of 4Low Magazine
Make sure to subscribe to get the newest issues of 4Low Magazine right to your mailbox. CLICK HERE
Racing Returns to Area BFE
Story by 4Low Staff
Photos by Mike Boyle
Most wheelers who've spent time in Moab have heard of the iconic Area BFE. A private piece of land located south of Moab, Utah in San Juan County. The purchase was made by a group of indi
viduals in the early 2000's. Numerous trails are found in the private reserve, many named after bands of the era. Green Day, Britney Spears, etc. One of the more historical and famous Moab trails, Strike Ravine, passes through a corner of the property.
You'll often find industry rides being held at Area BFE during Easter Jeep Safari. A few years ago when photography permits were hard to come by in Grand County, Area BFE opened their doors for many industry professionals. In ad
dition, Area BFE has hosted numerous racing and rock crawling events.
In today's world, the area is under the control of just one investor, Robert Lucero. He had closed the area in recent years for some much-needed maintenance and to get insurance needs handled. With a public trail running through part of the property, the exposure is significantly more than it would be with just private attendees. Closed for about 3 years now, many were wondering if the favorite playground of the extreme crawler crowd would eve
r reopen.
While it still isn't open publicly, this last September, great strides were made to put the opening in play. Ultra4 Racing held one of their series events at Area BFE. Since COVID-19 affected so many states and the ability to host races, Ultra4 approached Lucero about hosting a race they had to move out of Nevada.
With an agreement in hand, Ultra4 Race Director, JT Taylor, headed out to scout out a race course. One
of the major drawbacks for racing at Area BFE, was that the trail system at the private park did not have an existing way to loop a course across the terrain. Races in the past by Dirt Riot, required the racers to run in 2 heats to get a long enough race to make it a true endurance race.
JT's plan was to find an additional access point to add another road from the upper crawling area to the bottom of the wash that separates the upper area from the trail system area. JT Taylor found a route that was
app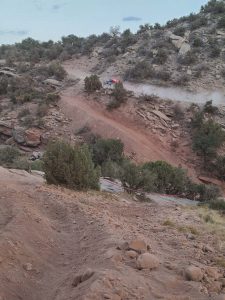 roved by Robert and then the crew from Ultra4 and the friends of Lucero commenced work to prep the area to accommodate what became a five-mile loop course. The course incorporated almost all the famous hardcore Area BFE trails.
The new road is called The Abyss, it works well for downhill, not so much for uphill. The race started in the Playground, to the Abyss, up into Minor Threat, Upper Helldorado for 40 yards, up Offspring to Green Day to Suicide Hill. Along the Ridgeline to Rage Against the Machine, to Dropkick, Lockjaw, then through the wash to Britney Spears, then back to the playground. The racecourse is called the Mustache Ride. Fastest lap was 16.37.
We applaud the crews that put the work in and found a way to race again at Area BFE. The next race is scheduled for Big Saturday in April 2021. JT promises a longer route and a change of direction for some of the terrain.