By Staff of 4Low Magazine
Originally published in Issue 23, October/November 2018
Make sure to subscribe to get the newest issues of 4Low Magazine right to your mail box.CLICK HERE
Man Caves are designed for all kinds of things, it's a place to hang with your friends, without a lot of interference.  It's a place to pursue your hobbies.  Off road tends to take a lot of garage/shop time, but what do you do when you're waiting on parts?  It's time to put your brain in to motion and check out some other hobbies.  We're all in to manly vocations, not that the ladies won't enjoy it too, but you probably won't find us baking cookies.  Are we being sexist…yeah, we think so too.
Let's talk about firearms.  Always a favorite topic.  A few issues ago, we discussed suppressors as they applied to firearms, today we're going to talk about air guns.  And the first name in air guns is Umarex.
The company got its start in 1972 in Germany, the purpose of producing air guns was to bypass Germany's strict gun laws that required a permit to purchase lethal weapons, almost 50 years ago, that was unheard of elsewhere. Air guns were key to satisfying the needs of recreational shooters.  At the time, Umarex produced just a single gun, a Perfecta Model G-1 blank firing pistol.  To expand their product line, Umarex secured licensing deals with gun manufacturers to allow them to reproduce their models in an air gun.
Umarex currently holds licenses with Glock, Colt, Daisy, Marksman, Beretta, Browning, Heckler & Koch, Ruger and Smith & Wesson, among others.  What does that mean to you?  It means you can purchase a gun that closely models another for purposes of training, target shooting and hunting, at a fraction of the cost.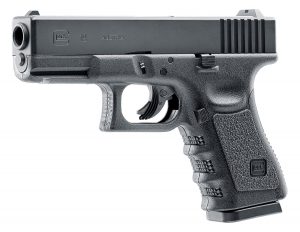 Think about it, I can take my Glock 19 out to shoot and spend $185 for a thousand rounds, add to that the cost of the weapon at about $500 and I've probably spent my monthly allowance of fun.  As an alternative, I can pick up the Umarex Glock 19 CO2 Air gun for about $70, I can add 50 CO2 containers and 6000 bb's to my order and I'm still in for just over a hundred dollars.  There is far more fun to be had this month on that kind of budget.
Other advantages of an air gun
They're quiet
Little recoil
I can shoot within city limits (maybe – always check your local laws)
Can train the kids without them handling a lethal weapon
If you have a felony, you can still purchase an air gun.
Safety mechanisms built in and can be trained on
We've been talking handguns and target practice.  Did you know that you can hunt with air guns?
We stopped by the Umarex USA facility in Fort Smith, Arkansas and toured the facility recently.  They have 117,000 square feet of highly secure warehousing and distribution.  Plus, all the customer service, engineering and marketing happens here.  The parent company is Umarex – Germany, which is also the parent for Walther Arms, the things you learn.
Many states are approving laws to allow hunters to use air guns, the latest being Texas.  Texas Parks and Wildlife Department recently approved air guns for the taking of alligator; big game species including deer, pronghorn, big horn sheep and javelin; turkey and other fur bearing animals.  Over a dozen states have similar laws in place.  And if you've ever doubted whether an air gun has the power.  Let me tell you, it definitely does.
While at the Umarex USA headquarters, we were able to shoot a The Hammer, .50 caliber air gun at the inside range.  How sweet that was!  Not hardly any kick, it was just big and bulky, as you would expect a large bore rifle to be, but smooth and while we wore ear protection, it wasn't bad at all.  According to Kyle Bruso, engineer at Umarex, they are taking all kinds of animals in hunts around the world with the new class of Air guns.
Check them out at www.umarexusa.com this might be just the kind of inexpensive hobby you're looking for while you're waiting on those parts to fix your trail rig.
The Ruger Yukon Magnum is a high velocity .22 caliber break barrel air rifle. It includes a 5 chamber noise dampener, a precision scope, ambidextrous automatic safety, an all metal Picatinny scope mount, fiber optic front sight and a rifled barrel. Retail price $250