FLEX YOUR ARMS
By Christian Sturtz, AZFreedom4x4@gmail.com
Photos by Christian Sturtz
Originally Published in Issue 24 of 4Low Magazine
Make sure to subscribe to get the newest issues of 4Low Magazine right to your mail box. CLICK HERE
Most modern 4x4s have multi-linked type suspension. In multi-linked type suspension the links, or commonly known as control arms, position and control your axle's movement throughout the suspension travel. The arms' ability to move freely affects your vehicle's flex. Control arms come in many different constructions and with many different ends. Most stock vehicles have stamped steel or tubular type arms with rubber bushings.
Stock arms have many limitations, one being that they are nonadjustable. The arms' ability to adjust helps you fine-tune your rig in many ways. It gives you the ability to fully align your vehicle. You can also lengthen the links to retain your vehicle's wheelbase, with a suspension lift. Additionally, it allows you to rotate the pinion position to properly align your transfer case yoke and axle yoke for no driveline vibrations, or after a slip yoke eliminator installation.
Another limitation of stock arms is their weak construction. Stamp sheet metal construction may be suitable for pavement pounding. However, it quickly shows its limitation with off-roading and vehicle modifications. Its construction and design is not strong or rigid enough to handle the abuse of off-roading. The tubular designs are stronger but have similar strength faults. If the arm is not a straight arm it is typically bent or press formed, which creates a weak spot that is prone to failure.
Lastly, the rubber bushings have very limited movement. Rubber bushings are great for on-road performance and for vehicle road noise. They also have a good "tried and true" dependability, unless they are dried out due to climate or age. However, they limit arm travel. Arm travel can be limited in a few ways. The arm itself can encounter a stop or obstruction, which does not allow it to have a free range of movement. The bushing may misalign, resulting in a suspension bind. Finally, the bushing may not twist adequately, due to its construction, causing a limit in compression and droop.
So, what can be done to overcome these limitations? We must find a product that is adjustable, strong, and doesn't limit your suspension travel (or articulation). There are several companies that offer a solution to these limitations, the one we will cover is offered by Currie Enterprises, called Johnny Joint rod ends and control arms. The Currie Johnny Joint was the first of its kind to offer a spherical ball joint with a urethane bushing. The Johnny Joint offers a high rate of articulation, quiet smooth operation, simple maintenance, and are fully rebuildable. Other variations of the heim joint are offered by MetalCloak, Ballistic Fab, Summit Machine and others.  Always do your research to determine which is right for your application.
They are available in arm kits, as well as full suspension kits for most Jeep applications with linked type suspension and in builder form. Builder Johnny Joints are available in 3 different body series: 2", 2 ½", and 3". They are also available in standard and narrow body widths with several different configurations, including: forged steel with a threaded shank, machined body for OEM applications, or weld-on for custom applications. Whatever your need, there is a Johnny Joint suitable for your application.
We will give a brief overview of the installation of three Currie Johnny Joint products on a Jeep Cherokee.
(Figure 1: Currie Johnny Joint upper control arms, lower control arms, and front axle housing bushing replacement kit.)
(Figure 2: On our Cherokee, the bushings were in bad condition and needed some attention.)
On our install, we started with the bushing replacement on the front axle housing. The machined housing is a direct replacement for the OEM bushing. (Figure 3) We recommend removing the coil springs to complete this work and reinstalling them after all the arms and bushings have been replaced. During this install the front tires were removed and the vehicle was supported by the chassis. Next, the front axle was supported and the shocks unbolted from the axle side. The front axle was then let down, which allowed the coils to be removed. Finally, the lower shock bolts were reinstalled to support the axle during the work. After the work was completed these parts were reinstalled in reverse order.
Now, we will replace the bushing that is in the cast section of the housing, which can be easily removed with a ball joint tool. (Figure 4) A ball joint tool can typically be rented from local parts stores or an air chisel can be used to remove the bushing. When using an air chisel the sleeve comes out much easier if a hole saw is used first to cut out the rubber in the bushing, leaving an empty steel sleeve. After removing the old bushing/sleeve the new Johnny Joint can be driven in with the supplied installer tool. (Figure 5) The new Johnny Joint may also be installed using some ball joint tools in conjunction with the supplied installer tool, rather than a hammer. To install the other bushing we must cut off part of the original bracket (Figure 6) and weld in a new portion of the bracket, which may need some fitting. (Figure 7) After squaring up the new portion of the bracket and ensuring it is all the way back in the original bracket, tack it in place, weld it, let it cool and paint it. (Figure 8)
Second is the installation of the new Johnny Joint upper control arms. We unscrewed the arms completely and applied anti-seize to the internal thread of the arms. Next, we adjusted them to the desired length, which will be different in all applications, we decided to go ½" over stock since the coils were bowed backwards. A come-along or ratchet strap can help move the axle to align the bolt holes. (Figure 9) The Johnny Joint arms change the bolt size from 10mm up to 7/16", so it is necessary to drill out the holes in the body (or frame depending on application, see instructions). (Figure 10) Lastly, tighten up the bolts, align the two arm joints, and tighten the jam nuts. (Figure 11)
Third is the lower control arms, which are fairly straightforward. The arms that were on this Cherokee have many of the same problems that the original factory ones do. At full droop they hit the shock mount and limit the front axle travel. (Figure 12) The arms were unthreaded, anti-seized, adjusted to the correct length, and then installed. (Figure 13) Ours ended up being 1" longer than the ones we took off, which gave us more caster, corrected the spring bow, and got our tires centered in the wheel wells. (Figure 14: Now, the lowers have tons of clearance.) After both arms are installed with all the bolts and jam nuts tightened the lower arms are done.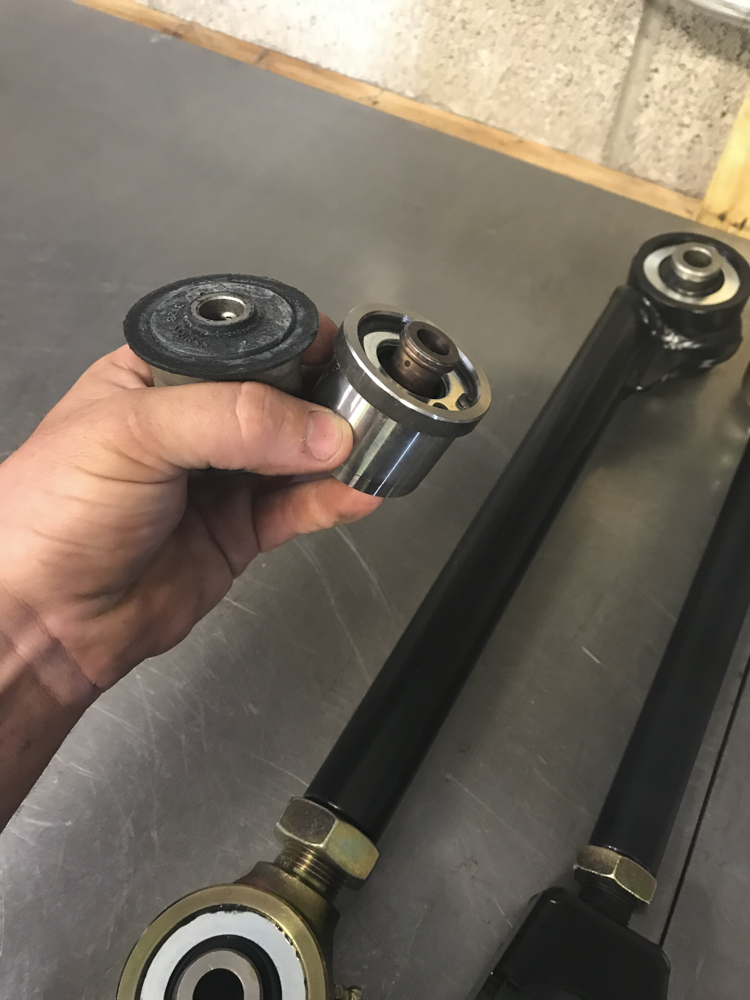 Figure 3
Figure 4
Figure 5
Figure 6
Figure 7
Figure 8
Figure 9
Figure 10
Figure 11
Figure 12
Figure 13
Figure 14
Part Numbers Used:
Housing Bushings (CE-9102K)
Upper Control Arms (CE-9102SF)
Lower Control Arms (CE-9106XJ)
Source:
Currie Enterprises, Inc.
382 North Smith Ave.
Corona, CA 92880
P: 714-528-6957